about hercule van wolfwinkle
Hercule has been called lots of different things in life, an artist certainly isn't one of them.
But all of that changed one late summer afternoon in 2020 when, whilst trying to coerce his young son into making some thank you cards, he doodled a picture of their family dog. The picture was rubbish, so naturally he stuck it on Facebook with the following comment: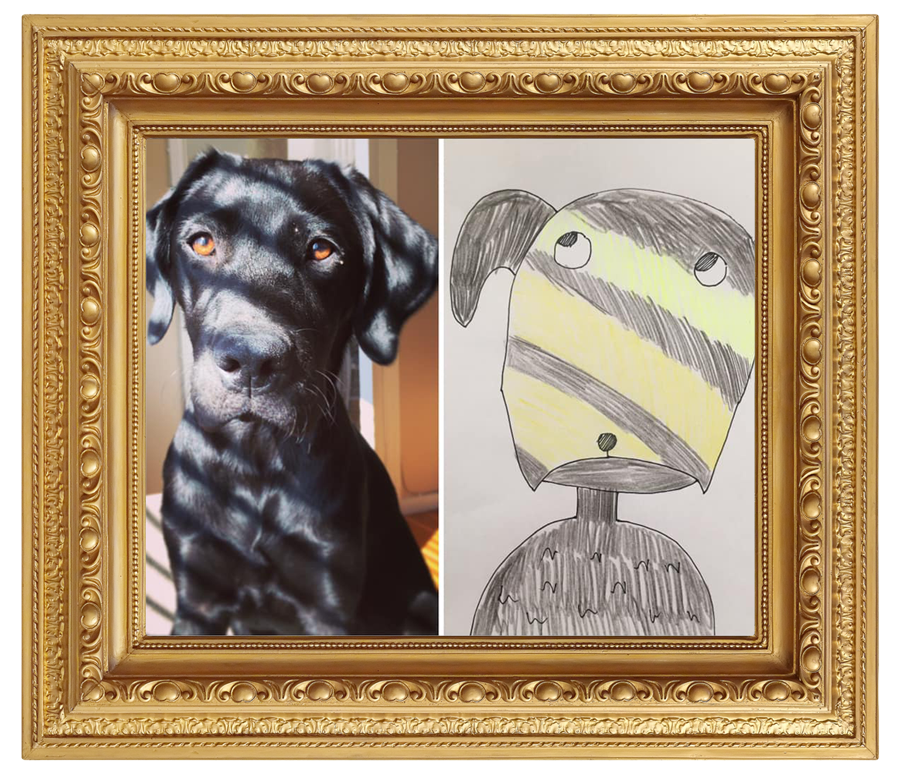 ***FOR SALE***
Beautiful hand drawn pictures of your favourite family pets. Just send me a photo and I can produce a unique and wonderful piece of art that will grace any home and make the memories of your furry friends last a lifetime.
Some examples have been posted (I know it's hard to tell but the photographs are the picture on the left in each one).
£299 ono. No VAT.
Little did he know that his work would go viral and his art would soon be in high demand with requests for portraits flooding into his inbox in their tens of thousands. Request from all over the globe.
Hercule's self-proclaimed 'ultra-realistic' style is akin to that of a small child who has never seen an animal before and is only just learning how to hold a pencil properly, but people like it. A large social media following and worldwide media coverage catapulted Hercule into the limelight and he has used this exposure to raise money for his chosen charities, Turning Tides Ending Local Homelessness and StreetVet.
Hercule does not take paid commission requests. All of the portraits are free and are just uploaded to his social media pages in return for a discretionary donation to the charity (more information can be found on the Facebook page).
To date he has raised over £300,000 and counting and this fundraising has seen Hercule receive a Points of Light Award from the Prime Minister, recognised by The Big Issue as one of their 100 Change Makers for 2021, and named as the 'Creative Fundraiser of The Year' at the 2022 Just Giving Awards .
Hercule's work has been exhibited publicly and The Sunday Times Bestselling book of his drawings, 'Rubbish Pet Portraits' together with his second book, 'Who's A Clever Boy, Then?' are both available from all good book stores via publishers HarperCollins.
The merchandise and print sales from this site are not direct charity sales, however a minimum of 10% of all profits are donated to the chosen charities.